I need more blocks to be able to put a quilt together! So the "SCRAPPY HEART BLOCKS" are back!
We all have scraps and love to use them up!
This block finished will be 12.5" X 12.5"....
You can do one heart or two!
This is not a patterned heart per say, it is a SCRAPPY heart.
Here are some examples ~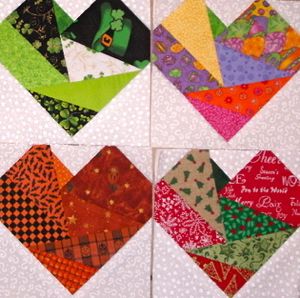 Fabrics should be of good quality 100% cotton. You may fancy your heart up with stitches if you like. I will do this monthly or so and senders choice of heart and colors. Of course checking your partner profile is always a plus! Feel free to PM with questions. This is a scrappy heart so you must have fun! The scrappier the better!