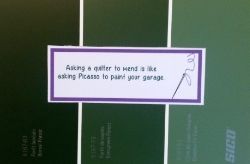 ---
Get your hands on some paint chips and make a paint chip postcard either exactly like, or similar in appearance to, the one above. Your choice.
All you need are:
a large paint chip card (or you can glue smaller ones in the same shades and tints onto a larger backing if you cannot find large ones - just arrange them in a pleasing order)

a quote (typed or nicely handwritten or printed or stamped or using letter stickers or rub-ons, etc.) on a piece of card stock that is then securely glued onto the front of the paint chip in whatever orientation you like
Paint chips are available at Walmart, Lowe's, Home Depot, hardware and paint stores, etc.
NOTE: If you really want to do this swap and absolutely cannot get your hands on paint chips where you live, you may use coloured card stock to mimic paint chips BUT they must be shades and tints of the same colour, not random or contrasting or complementary colours. You can even make your own paint chip if you need to (using markers, paint, etc.).
You may add other embellishments if you wish but this is NOT a swap requirement.
This PC should be sent stamped and naked (not in an envelope). If you wish, you may secure the front of your PC with packing tape, mod podge, lamination, etc. to protect it in transit.
On the back, write a note to your partner about the same subject as the quote you have used on the front.
Don't forget to include the swap name and your SB moniker so your partner can rate you.
Please make sure you have:
A well filled out profile, with some colour preferences listed (or a statement that you have no preferences, are open to anything, etc.).

Logged onto SB July 27 or later so I know you are still active.
Any questions about this swap? Please post them below.
But, if you have any problems with this swap, please feel free to pm me. I will do what I can to help resolve them, including angeling if necessary as long as you have rated your partner a 1.
Have fun!