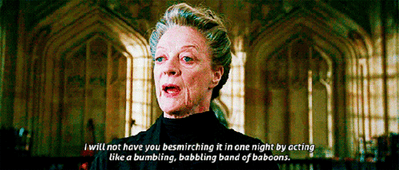 Let's celebrate Professor Minerva McGonagall's birthday, October 4, with some profile comment pictures!
To participate, you will post at least ONE (1) picture related to Prof. McGonagall--make sure it is 300 pixels wide or less or it will get cut off!--in the comments sections on the profile pages of your TWO (2) partners. (You can choose the same picture for both). This should be an easy, electronic swap.
I will assign partners on Friday, Oct 2 and you will have one week to complete your swap.
I can't ask for or guarantee ❤️ ratings, but consider including an extra picture, or a favorite McGonagall quote, or writing a little bit about why you like the Harry Potter universe. Sometimes a little extra thought in connecting with your partner is all it takes :)
---
Newbies are welcome (we were all new once!) but keep in mind that you are expected to post your comments on time and also give ratings in a timely manner. Ratings are, for better or worse, a central part of swap-bot, and no one likes to have to pester their partners just to prove that they have completed a swap!
I will angel if necessary, but I am hoping it won't be necessary (and thinking it shouldn't be!). It should go without saying, but please don't sign up for a swap that you don't think you can complete in time.
---
---
If you have questions about this swap, please send me a direct message for a faster response; I may not check the discussion area below as often.
---
---
How to Post Pictures
There is a great tutorial here by @muincat:
So You Wanna Trick Out Your Profile
More tips/reminders:
make sure your picture is 300 pixels wide or less!

Take advantage of the "Preview" button to make sure that your coding works, because typos can happen to the best of us sometimes!

Practice in the comments section on your own profile--that way you can see how it looks, and you can also delete anything you don't want to keep. You can also practice in the Discussion area below but note that it is a wider space than the comments section and will thus allow for larger pictures. a larger picture that shows up fine in the Discussion area will get cut off in the comments section.