Life isn't about waiting for the storm to pass... It's about learning to dance in the rain.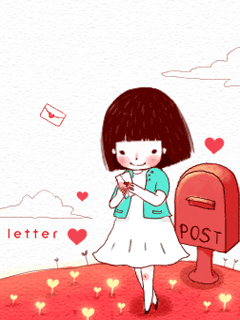 If you are going to be late on a swap please feel free to contact me. I completly understand that life gets in the way, and not always the big things, Sometimes just life in general. Communication is the key :-)
Hi! My names Anjee and I come from the quiet town of Farnborough in England, Not far from London. I have a Myspace - It should be set to private but feel free to add me - just drop me a message saying your from here :-).
I tend to ramble on on things like this - bare with me! I love swapping and miss the days of penpals and getting things through the post that wasn't a bill! I love music, socialising and travelling, some of my favourite things to do are: Seeing the world (Japan is a personal favourite...), learning new things, driving along in my little car singing at the top of my lungs (!), Seeing my friends and Dancing like a madwoman :-)
Favourite colours - Black & White, red, black, yellow, pink, emerald green, I love Grey with neons - I like clashing colours and mis-matches *
Favourite animal - Pug :-D *
I Love stars (even my little car is Monochromatic with white exterior and Big Black star outlines!), hearts, skullys and anything a bit kitch!
I have a definate love of leopard print and my peep toe leopard stilettos are the best thing since sliced bread. Except for the pain they cause :-(
I love Japan More than anything, i love everything about it and dream of living there.
My sense of humour is a little bit wrong and I am not the most PC person in the world.
I love Red coats and pretty shoes, I love dancing in the rain and feeling the wind in my hair. I like quiffs, boys with tattoos and anything nautical themed, I LOVE PIRATES AND SAILORS :-) Anchors are AWESOME and I love girly skull and X Bones :0D
I love Black hair and white hair...but nothing in-between, I always have red polish on my toe nails. I love alice bands and hair bows, pearls and plastic. 50's pin-ups and trailor-trash, random gifts from the heart and not the wallet, back-stories and future dreams. I dream of boys like Gerard Butler and Johnny Depp and wish I had Marilyn Monroe hair.
I wish I was Little Red Ridinghood
I Love Rum Truffles, Champagne Truffles, anything remotely truffle-y! Thorntons is my biggest weakness.
My favourite flavour is grape - something there isn't enough / any (!)of in this country!
I love perfumes - Thierry Mugler's Angel being my favourite and Paul Smiths London being my "feeling pretty" smell :-)
My Life is pretty much about too much eyeliner, too much peroxide and not enough experiences!
I have strong views against Religion. I don't believe, I don't trust and I don't like. But I don't preach and therefore expect the same in return. This isn't to offend, each to thier own :-) Fairytales are for bedtime, not to rule your life. Letting these stories dictate so many things have caused wars and far too much hurt. Brainwashing at its finest.