About Me: I'm pretty easy going, I find beauty in many different things.

I love skulls as weird as that sounds. My favorite mammals are dolphins,
I love ladybugs they are just too cute! I love traveling, haven't had a chance to do much of it yet. I like exploring new places and things. Love being able to help someone else. A few of my favorite colors are purple, red, and blues. I like the anything "vintage/retro", old cars and trucks, and the look of antique lace.
I listen to all types of music Country is my absolute favorite though. Yes that does include classical! (: I enjoy singing and song writing as well. I play trombone, baritone, and guitar.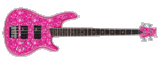 Reading is a great past time of mine. Some of my favorite reads are: Stephen Kings "The Stand", Debra Macomber "20 Wishes", and everything done by Erma Bombeck, she is a hoot!
I'm still a kid at heart and one of my favorite movies is The Little Mermaid,
I also love musicals. Gone with the Wind and Phantom of the Opera. I also enjoy Tim Burton movies one of his best, I think is "The Nightmare Before Christmas".
I'm not a huge T.V. watcher but when I do watch T.V. I like to watch cooking shows. Food Network is my favorite. I love cooking, baking, beading, drawing and sewing just to name a few.