KAWAII paper products

memo sheets (loose, any size, shape, character or brand - I don't use them, just like collecting them!)

memo pads

letter sets (1 envie + 2 sheets)

sticker flakes

Cute plastic / cellophane gift bags that I can use to send out flat memos
My favorite Kawaii character is Gotochi Kitty, otherwise known as Regional / Local Hello Kitty.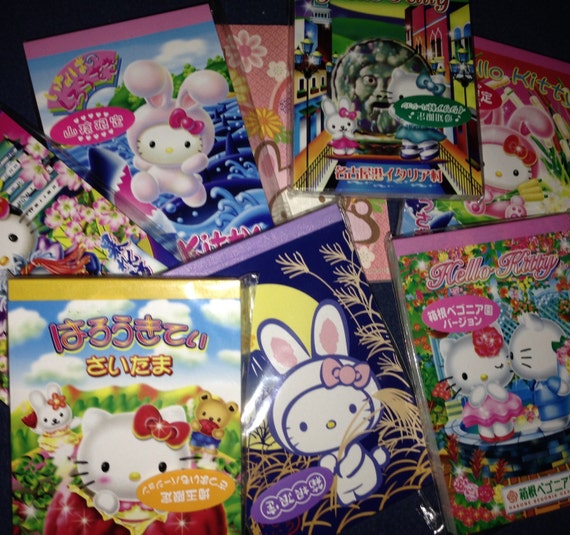 I like pretty much all Japanese Kawaii and love being introduced to new styles / characters. The only character I'm not too keen on is the fish from San-x.
Deco tape / Washi tape

Glass beads (medium sized, about 1 cm or larger, that could be used to make bracelets with) & spacers or other supplies that I could use to make bracelets.

Vintage glass / crystal beads, like milk glass for example, these usually can be salvaged from old necklaces / bracelets

Jewelry making supplies like lobster clasps, wire for making beaded bracelets, earring hooks (silver-toned), earring head pins (silver or gold-toned)

Postage stamps from your country on the envelope you send me :)

Cute stickers (modules - from those sticker strips like Sandylion or Mrs.Grossman) or sticker sheets

Vintage 80's stickers

Packages created and sent with TLC :o)

Decorated envelopes / packages - I love seeing your creativity! It's all going in my Swap-Bot smashbook :o)

Decodens / cabochons

Barbie doll clothes - used and even with minor flaws are o.k. with me! I can sew up little tears no problem.

Cabbage Patch Kids clothes

Women's english magazines from other countries (like "Her World" from Singapore)
POSTCARDS
I'm the Group Founder for "Free Postcards 'R' Us' which is a postcard group for people who enjoy sending and receiving free postcards (handmade, freebie / ad, upcycled notecards & greeting cards, cardboard packaging, etc.)
I love receiving naked (written on, not in envie postcards). If at all possible, please use different stamps, rather than the standard Global Forever stamp. I love US stamps and would love to see more of the variety that is out there!
If anyone wants to send me any interesting blank freebie / ad postcards, I'd be happy to take them. Either for myself or to use in swaps!
Topics you could write to me about (just ideas off the top of my head here....)
Your favorite movie
Describe the view from your window at home
Tell me about a funny / nice / interesting / sad / frustrating thing that happened to you recently
Tell me about a typical day in your life
Where have you traveled to and what are some of your favorite places in the world
Do you believe in reincarnation? If so, what do you think you were in a past life?
If not, what historical figure or past culture do you feel a strong interest in and why?
Have you ever seen synchronized swimming and if so, what do you think of it?
THEMES
Snoopy

Pegasus / Unicorns

Matryoshkas

Kokeshi dolls

Synchronized swimming, for example, vintage books, or magazine clippings, or postcards, sometimes you even see synchro stamps from different countries. I also collect synchronized swimming pins.
FOODS
I've been dairy-free for about 6 months now. Did it to help my baby who was displaying signs of Silent Reflux. So I'm no longer wishing for anything that contains milk.
True Lemon packets - any of the flavors

Kool-Aid

American items I miss are....Tootsie Roll lollypops, Jolly Ranchers, Sour Patch Kids, etc., etc.
FAVORITE COLORS
blues, greens, magenta, burgandy, royal purple
MISC. ITEMS
Things I don't mind receiving if you are having trouble figuring out what in the world to send me:
Postalettes
Organza bags
Notecards w/envies
Letter sets
Drink mixes (non-caffeine), Kool-Aid, Tang, etc...
Candies from your country
Handmade envies
Pocket wet wipes & pocket baby wipes
Fiction books, these can of course be used.
Target dollar section stuff!
Hand cream (purse sized)
STUFF FOR MY LITTLE ONE (she's 4):
Cute Band-Aids

Reward stickers

Plastic beads and stretchy cord for making bracelets

DVDs - they don't have to be new, just as long as they still work. For example, anything Sesame Street, Mickey Mouse Clubhouse, Timmy Time, Handy Manny, etc., etc.

Board books, for example, from Target - they sell these for $1 each :o) - used & in good condition is o.k.!

My First Little Golden Books, Pixi books (from UK or Australia) - used & in good condition is o.k.!

Children's books suitable for toddlers - used & in good condition is o.k.!

Clothing (anything 4T and up, but if it's looking really used or has stains / holes, then better to not waste your money on sending it). Not interested in 100% Polyester for her.

Coloring books - please check to make sure there aren't any weird images on the pages...I once bought her a coloring book that had a picture of a cute clown on the front and then later looked inside and there were weird cartoon pictures of animals working as butchers with knives! There was even a picture of a pigs head on a plate!

Crayons - new condition please, but it doesn't have to be a box of them, it could just be a a handful of crayons that maybe you never used and don't need, my daughter loves to color! :o)

Hello Kitty (I think I may have brainwashed her a bit on this)

Sesame Street - favorite characters are Elmo, Cookie Monster, Ernie & Bert

My Little Pony - new or old version, used (but clean and in good condition) is o.k.!

Filly ponies

Snoopy & the Peanuts (also my influence...)

Strawberry Shortcake

Barbie

Disney Princess stuff....

Mickey Mouse, Minnie Mouse, Daisy Duck

Amigurumis

Swim diapers, size 5 or larger, not expecting a full package at all! But if you happen to have some and enclose 1 or 2 in the swap, that would be awesome!

CDs with children's music, can be burned, used, whatever, as long as it works :o)

Handmade whatever

Easy recipes for children because she is so picky I have no idea what to feed her sometimes

Toddler "Busy Bags" or any creative ideas for activities for her