1- Do you like when someone sings you happy birthday in public places? I like it because it takes a lot of courage to sing in public!
2- If you won the lottery tonight what would you do with the money you won? and how would you spend it...? First pay the loan of the university, second i think save some for my nephews and nieces education and buy a house were i can live(if it´s near water even better)
3- Whats your favorite holiday? and why?
18 of September because is Chile independence day and we get together with family and friends.
4- Who is your favorite Author and what is your favorite book by this author? Agatha Christie, mysteries and crimes =) Hallowe´en party is one of my favorites and also Mr Poirot series...
5- If you can go on a trip around the world, where would you go and why? Everyplace, i´ll love to know the world, feel the culture, dance their music, is a dream for me.
6-They say kids say the darnedest things, name something your kids did or said in public that made you laugh.. ¨Marisopa¨ is a misspelling for butterfly that changes to a kind of soup! hahaha
7- Who is your favorite actor or actress? Johnny Depp or Jennifer Lawrence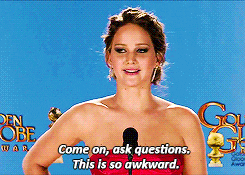 8- What is your favorite tv show or soap opera? I like the ballet and the opera of ¨Carmen¨ :) getting back to the question for tv show i may say The big bang theory.
9- What is one thing that you wish you could change about yourself? Being more confident...
10- Have you ever met a celebrity? if so who was it? or if you didn't who would you like to meet? Yes! Dunga, famous brazilian soccer player and in that time dt of Brazil soccer team.
11- Who are you most proud of and why? Get a B.S =) because it was a big goal that i wanted to achieve.
12- Do you have any kids? or pets? No they don't allow them in the female gradhouse. I would love to have many cats here =3
13- Whats your favorite fast food restaurant? mmm, i don´t like fast food, probably pick Wendy´s because is originate in this state (OH)
14- Do you like spring or fall? So hard to say! i love to take photos and paint...both season has a interesting palette, i would stay with spring because is warmer
15- What is one thing you do everyday ? Take a shower, and listen music
16- What is one thing you hate doing everyday? Waking up early!
17- Who was your best friend growing up and are you still friends today? My best friend is Rodrigo and is like family to me
18- Do you have any penpals? Do you want more penpals? Not yet. Yes! i want to share culture and know more about the world!
19- Name 4 things you enjoy swapping with your pals? I imagine that preparing the letter, decor, good vibrations and smiles! =)
20- What are your Hobbies? Knitting, painting,drawing, dancing, taking photos , read, go for a hike, being in the nature, watch movies.I think the best of my hobbies is trying new things! =)
21- Are you crafty? If yes what is something you made that was crafty? Scarfs, hats, cards, frames...
22- Do you collect anything? If so what is 2 things you collect? Giant ragweed, cats figures and color pencils(sharpies, watercolor, any kind of color pencil)
23- what is something you hope to get for Christmas this year? Surprises!
24- Where and who will you spend Christmas day with this year ? With Margie´s family on her farm
25- First name: Pia Beatriz
26- Were you named after anyone? Yes, my godmother, her name is Maria Pia
27- Which finger is your favorite? The thumb, i like it because it can be positive or negative! hahaha
28- When did you last cry? Yesterday, a good friend left the work where I'm i, I'm gonna miss him a lot.
29- Do you like your handwriting? Yes! I'm always working on my writing skills, after all that keep us communicate :)
30- What is your favorite lunch-meat? The home made one, i love to cook and have a just made home food :) The menu should probably have a soup or salad(depend if it's winter or summer), a main dish as lasagna or rice noodles with shrimp and eggs(it depends in the country mood of the day) and a dessert! Chileans love sweet things and no matter what...there's always space for dessert!
31- Any bad habits? Bit my fingers when i'm nervous :(
32- What is your most embarrassing CD on the shelf? Interesting question, for me they are special but for my roommate having a CD about Cat compilation is funny XD
33- If you were another person, would you be friends with yourself? Sure!
34- Have you ever told a secret you swore not to tell? No, and that is something that has show me who are the real friends...
35- Do looks matter? Depends, if it's according to what you are wearing not at all, but if you are preparing something special for somebody this should be as perfect as possible.
36- How do you release anger? Go away, walk, sing, ride bicycle or go for a hike, my very first rule is never try to solve things with anger.
37- Where is your second home? Being outside, i can easily get lost in a city but going to the nature is totally different, i always find myself there.
38- Do you trust others easily? Yes, that's why I'm also kind of extreme when somebody betray my trust ( i cannot re-trust easily)
39- What was your favorite toy as a child? Tools! specially screwdriver and wrench, i like to see how things function so i basically open everything and look inside and draw what i was looking at :)
40- What class in school do you think is totally useless? None, i love school, i have use all of what i have learn there.
41- Do you have a journal? Yes 2! One for my daily life and one for my dreams, i keep one journal at the side of my bed and every time i wake up i write about my dreams.
42- Do you use sarcasm? Really? hahaha, of course, time to time, there's a lot of miss words that lead you to sarcasm a little bit...
43- Have you ever been in a mosh pit? Sure! In the concerts, if you are not one of them you are against them and they hit hard! :/
44- What do you look for in a guy or girl? I look for someone fun, curious and supportive, when you have a thousand of crazy ideas you really need a side pal :)
Bonus Question
45-Do you have more questions about me?