Proudly Presents...My confessions:
9/3/08 UPDATE: Working on swaps, had stored away all of me craftin' goodies, but I've pulled it all out of storage & everything is working out pretty well :) Trust me, I'm gettin' down and dirty with paint, varnish and all now. Thank you once again for being so patient.
Alrighty folks, things have been a bit hectic for me...working 60+ hours a week has taken its toll...physically and mentally...ah hell who am I kidding? I'm an emotional wreck too ;) Anywho, swaps are definitely being worked on during the weekends. I'll start sending stuff out soon. Thank you to me partners for being so patient with me.
...
You're about to start on a path to absurdity, so grab 'hold of your seat 'cause this profile's gonna be a bumpy ride..Fortunately I've been adhering to a pretty strict, uh, drug regimen to keep my mind, you know, limber.
He paints: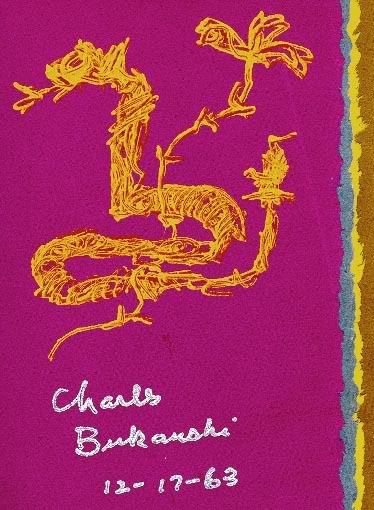 I walk with a swagger. But I never never stagger.
I live with a beta fish named Ignacio. He's pissed off most of the time and can be considered rude..His friends call him Nacho.
During my high school summers I attended Math Camp. The Math-Science Honors Program to be exact. It was immature laughing at farts, University Calculus, the occasional snake exhibit and the like. But the best was stealing a 7-foot Ewan McGregor Star Wars Obi-Wan Kenobi cardboard cut out and trying to run with it as well as 6 other kids across campus back to our dorms. Ballsy? Yes. Infatuation with Ewan McGregor's light saber? Wham bam thank you ma'am!
Your mom goes to college. If I had a nickel for every time I heard this one. She does and she's one hip hip lady.
I respect the privacy of cats. I thought my first cat(RIP Mojo) was a girl, I had her spayed..when the doctor handed her back to me and kept saying "He" when she was referring to my cat, I told her it was a girl. "Oh, honey no...Mojo is a boy." Poor Mojo.
My best friend is a praying mantis. He(yes he's a HE) likes to drink cheap beer like Olde English and Pabst Blue Ribbon. But only Olde E if he's feeling greasy. And I must say he feels greasy all the time.
I sleep with Henry Miller. I try to read right before going to sleep, but my schedule these days wears me out. I read maybe one page and fall asleep to wake up the next morning next to Tropic of Cancer.
I have a strange obsession w/smelling things. Swap packages that have a scent when I open them pique my interest.
I say the following phrases..A LOT:
Psh yeah!
mos def
Oy vey.
I can dig it.
In your mouth. (this follows every comment my friends make)
"When the building security guard hauls me away for stalking you, please ask him to be gentle, I bruise easily. Hm." -RudeNun
"Hot dogs make me forget important secrets." -RudeNun
Do it: