DEAR PEOPLE: IMPORTANT UPDATE 21 SEPTEMBER
Hello dear swap-bot friends. My health is still very bad. It's so hard for me to craft, my hands hurt so bad. I have applied for a rehabilitation program in the hospital. I am trying to send out the last two swaps on my dashboard, but it's hard. I feel so bad about all this :-(
06 september
I am slowly catching up on swaps. Will not join anything new until my hands get better. The pain only seems to be getting worse :-( I have check-ups in the hospital tomorrow. Thank you all so much for your patience.
25 August
Due to a very severe flare-up of fibromyalgia and burn-out I am on morphine. Crafting is hard for me due to pain in my hands. Some swaps will be late but this will be communicated with the hosts and partners! If you feel you receive something from me that is not up to standards, please let me know and I will do a resend as soon as this is possible. Thank you for your patience and kindness.
Hello! Welcome to my profile! I am Annejo, 34 years old, and I hope you'll get some inspiration for mail, writing and art, if that's what you came looking for!
-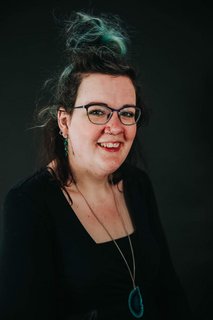 -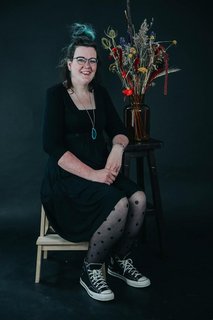 I always have a bit of green in my hair, and I am The Polka Dot lady for my friends. I am a writer, poet and artist, though I feel a bit silly calling myself that. I love to write and draw! I also have a life-long passion for sending and receiving mail. I am a follower of Jesus but I try not to be obnoxious about it. To me love is the greatest commandment and I am absolutely accepting of the LBGTQ community. Let's accept each other as He has accepted us.
Me in a nutshell:
Writer
Poet
Artist
Cat lover
Fibromyalgia
C-PTSD
Houseplant connaisseur
Short Stories (mostly Science Fiction)
ATC's
I volunteer for a foundation that provides reintegration into society for youths who have problems due to addiction, disability, trauma or a mix of those. I write and create and do administrative duties.
I have two cats!
Loki is seven years old black and white tuxedo: a Norwegian Forest Cat mix. He's a big floofy boy, with a very strong character. He knows what he likes (and dislikes!). He's not very cuddly but extremely loyal and always around. I have him tattooed on my leg!
Storm is my kitten, he's a grey and white tabby. He's a Norwegian Forest Cat X Maine Coon. Storm is a crazy boy! He LOVES to play and cuddle all day long! He's the sweetest kitty ever, but a bit clumsy sometimes. He's also a very big boi already at seven months!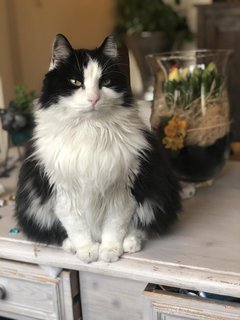 -