===============================================================
PLEASE REMEMBER TO RATE! If you don't rate, I won't know you received it!
===============================================================
I've been creating art since I can remember and actually had a painting of mine hang in the deYoung Museum in San Francisco for 3 years when I was 5 years old, thanks to my kindergarten teacher.
I'm an avid traveler and have been to all 7 continents (Antarctica was the last in Jan. 2023), and 41 of the 50 USA states...still working on the final 9, then I can check that item off my Bucket List.
I absolutely love when people challenge themselves and explore outside their comfort zones! I'm always up for a challenge and seek out new artistic endeavors, so I look for those types of swaps and I try to host swaps that may be different or challenging for some but very rewarding once completed.
This is a photo of my craft room in our previous home in Oregon, cleaned up for house sale photo shoot. Now we're back in sunny California and I've set it up all over again (phew).... but it will never look this tidy again!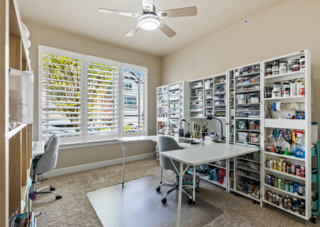 ===============================================================
YES PLEASE:
abstracts
art deco
bling
collage
celestial
colorful
colors: purple, turquoise, chartreuse, red
dogs
fairies / faeries
foreign language book pages
geometrics
hand drawn / hand painted
interactive ATCs
metallics
mid-century modern
mixed-media
mushrooms (to admire but NOT eat!)
mystical
rain
sci-fi
sequin waste (aka punchinella)
travel
UFOs
Vicki Sawyer napkins
watercolor
whimsical (i.e., off beat, playful, quirky, etc.)
========================================================
NO THANK YOU:
meat or seafood related images (I've been vegetarian for decades)
religious content
child-like subjects (i.e., dolls, kids playing, toys, etc.)
people-type ATCs (i.e., movie stars, vintage folks, kids, etc.)
holiday themes (unless specifically the swap requirement)
sticker slapping
Disney (I like many movies, but don't collect)
patriotic themes
superheroes
cutesy things (i.e., teddy bears, dolls, gnomes, etc.)
paper doll & vintage people images
horror
anime, Pokémon, Hello Kitty, etc.
small bits of paper "extras" - please, nothing smaller than ATC size
no food/drink items, please
======================================================