Hi! My name is Nikki, I am a 35 year old mother of three, living in the beautiful little island of Guernsey. This is me: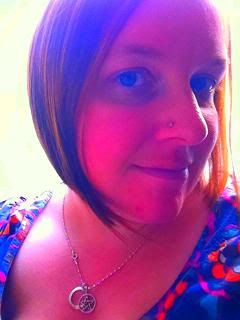 I am an eclectic Pagan who was scooped up by Isis years ago and She is my most beloved Mother, however I love many Gods and Goddesses and have an inquenchable thirst for learning more about all the forms of the Ancient Ones. I am a registered nurse, working in the community and absolutely loving it! As well as being an RN I also have two diplomas in reflexology and am a Reiki master. My favourite colour is purple :) I love all Egyptian related items and collect tarot decks. I love singing, folk music (esp. 60's), walking in nature and reading, baking, crochet etc etc :) I am a real homebody and like to potter around in my own space, although I do love people and socialising, but it is always nice to spend some time on your own :) I also love cats - they are so funny and beautiful :) I have a deep love and kinship with the zeitgeist of the 60's summer of love era....I love psychedelia and posters etc from the time. I am looking for some reproduction Woodstock tickets! xxx
I wear a size 6 uk shoe which translates to a size 8 womens in USA :) I love glitter, bright colours, stripes, anything that will make me smile :) xoxo
What I pledged!
I recycle packaging wherever I can so please don't be surprised if your package is a bit dog-eared on the outside!