I got the best birthday gift ever, a Chihuahua. I'm obsessed and he's my world. A lot of my free time is dedicated to him, my husband and my other passion, crochet.
Since it's finally almost summer here (my favorite season) I want to enjoy every minute of sunshine I can get.
For all these reasons and other, I'll be quite absent from Swap-bot but will be checking messages sporadically and maybe participate in wishlist once in a while.
~ I'm french speaking (from Montreal, QC Canada). Sometimes, I might sound rude even tough it's not my intention because my english vocabulary is limited. Please don't get offended by my messages if they don't sound wright. Thanks ~
---
I'm a fan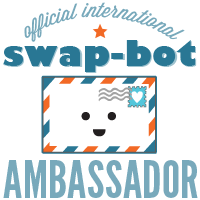 ---
~I'm a lucky woman blessed with an amazing husband, a stable job and a good health in general. Lately I've had many occasion to see that not everyone has the same opportunities in life and I'm trying to give back a little bit. That's one of the reasons I decided to be a CHEMO ANGEL.
---
I work full time for the Federal gov. in law enforcement and have no kids (by choice), but I'm married with a wonderful guy for now almost 9 years (see below for his interests). .
---
What I pledged