PLEASE READ THIS FIRST AND FOREMOST!
If you do not get something I was assigned to send you, Please Message before rating. As much as I've enjoyed SB I've experience what some of you also have...Stuff getting lost and RL causing havok (And unfortunately once in a blue moon shipping an item is delayed) I ALWAYS send things out so please be sure to message if you do not get them.
Also....
If I send you something you DISLIKE or looks to be from the wrong swap, please RESPECTFULLY & AMICABLY message me and I will work to correct the situation. I am Human, I make mistakes.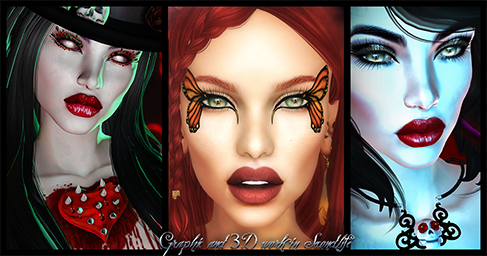 I am a 44yr old Pagan Artist & Mother of 4 children. I live in Down East Maine and enjoy the simple pleasures of Small town living.
I am an Original Content Creator in a game Called "Second Life" I do a lot of my Artistic expression there. My Brand is known as "VENGE / Vengeful threads". I've been a content creator within the game for 10+ yrs now.
I have many hobbies, interests, & am an avid collector of lil things of this and that. Lil things tend to make me happy. Some of my Hobbies include Making beaded Jewelry, Photography, and doing Hand Drawn ATCs. The ATC's help me strengthen my craft and pushes me out of my box so to speak
Some of the Things I Like/collect are:
Mandala Coloring Books
Mandala ANYTHING
Gemstones
Beads
Buddahs
Anything Ganesh/Ganesha (Hindu Elephant God)
Anything Gaia (Earth Mother)
Anything Cernunnos/Herne
Anything Anubis (Egyptian God of the Dead)
Curio Knick Knacks/ Figurines
Plants
Feathers
Old Diaries, Letters, & Photos
Jewelry
Sugar Skull / Day of the Dead Items
Nail Polish
Flower Seeds
Stickers
Sea Shells
Sea Glass/Pottery
Butterflies/Dragonflies
Vintage Marbles
Black Cats
ANYTHING HALLOWEEN (Love Halloween!)
Tarot Cards/Oracle Decks
Ankhs
Bookmarks
Wax Tarts for burners (anything fruity)
Aromatherapy oils
Succulent/Cactus ANYTHING...especially seeds/Plants
Plant cuttings/Babies such as Spider-plants/ Wandering Jews.
Anything Plague Doctor
Favorite Colors:
Crimson Red
Black
Hunter Green
Gold
Silver
Eggplant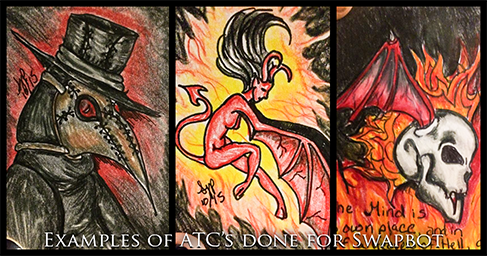 Things I need for Current Art Projects:
Broken Necklace Chains
Old Keys
Prismacolor Markers / Pencils
Fine Powdered Glitter
Acrylic Paint
Feathers (Naturally discarded)
Altoid Tins
Blank Wooden Plaques
Glass Crow Beads
Paint Pens
Glass Beads
My No no List: Please do not send anything on this list, unless its part of a themed Swap.
Anything Christian Faithed in Nature
Anything Endorsing prejudice
Anything Pink or Pastel
Anything Floral Scent (Unless its Jasmine)
Anything overly Feminine or "Frilly"
Reward Stickers