I'm moving back to England shortly, so I won't be joining any swaps until I get there and have a place to live :)

If you want any kind of private swap with me just let me know :D I love many things, so I'm up for almost everything :)
I quit Swap Bot a long time ago, and I decided to come back and play a little ;D It feels good to be back.
My profile is full of information, and I'm begging your forgiveness because of that. It's just that I can't stop writing about random things, and I get overexcited talking about everything I like... Maybe the problem is that I actually like A LOT of things ;D hehe.
Please, check the swapping facts at the bottom of my profile :) It's very important.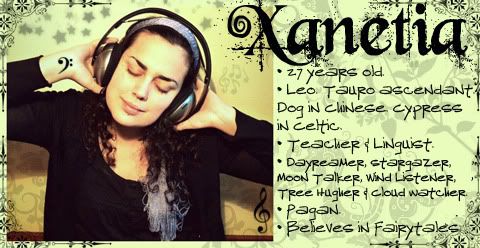 I have a bright and a dark side. And yes, I can combine them perfectly :)
• My bright side - Colors, toys, Blythe, candy, glitter & sparkling, party, butterflies & dragonflies, Sanrio & other stuff like that, stars, fairies & fantasy in general, rainbows, stickers... Everything very very colorful.
• My dark side - Cemeteries, Night, Bats, Gothic, Vampires, Victorian age & romanticism, Ghosts, Zombies, Living Dead Dolls, Dark Ambient, everything related to Death, dark colors (I dress in black most of the time), Blood, ... I was always quite sinister and attracted to everything Dark and Decadent.
I'm a very random person, obsessed with many different things and in love with the small things in life ;D

★ I have a degree in English, and I'm doing a PhD in Linguistics... Although I'm thinking about quitting and start a Master. I'm an English and Spanish teacher.
★ I'm from Spain, and I'm spending the summer there, but I live and work in England at the moment. I also lived in Atlanta [USA] many years ago... And I miss it soooo much in there :/
★ I'm very chaotic. My room is a complete and neverending mess, and so is my head. I can't organize myself, and I'd rather learn how to coexist with the battleground than fighting... This is a battle lost before starting, so I can't be bothered.
★ I love reading. Seriously, I would marry a book if that was possible. Give me a Epic Fantastic Novel and you won't see me in a couple of days. I think I even forget to eat and sleep when that happens. Fantasy, Horror, Science Fiction and Georgian/Victorian Literature are my favorites :)
★ I'm a sucker for legends. I love with all my heart everything related to the Arthurian Lore, Robin Hood and Celtic/Greek/Roman Mythology especially.
★ I tend to fall in love with fictional book characters ;D - Kalten from Elenium & Tamuli (David Eddings) is the man of my dreams :_) Also Mr. Darcy and Heathcliff, of course ;D
★ My name Xanetia comes from the Tamuli trilogy (by David Eddings) and it's one of my favorite female characters in books!
★ Music is my life. There are no days for me without singing and/or listening to the music. I think I would marry the music as well if that was possible ;D
★ If you want to die you just have to question my absolute love for Muse. I get easily offended in that case, and I'm capable of crazy things... Beware ;D hides her flame thrower just in case
★ My camera is like the extension of my arm. I need it like breathing, and photography helps me feel better most of the time.
★ I'm obsessed with the Universe. It scares the hell out of me (I'm spacephobic), but I can't stop reading and/or seeing pictures and watching movies/documentaries about it. It's beautifully scary and impressive.
★ I'm also afraid of heights, planes/flying, bees, wasps and clowns. I don't fancy small rooms, elevators or crowded places either. Also, number 8 makes me feel a little nervous... I don't know why.
★ I love dolls. A lot. And toys, plushies and everything. My room is full of these things, and it looks pretty much like a bazaar.
★ I love everything that shines. Glitter much? NEVER.
★ I'm a child in a 27 years old body. I don't want to grow. EVER. :(
★ I don't mind your beliefs, so why do you mind mine? I'm pagan, I believe in nature, the Triple Goddess and all those beautiful things. If you don't like it, I'm sorry, but you've gotta respect me as I respect you... Or we'll have a problem ;D It's not the first time that someone has tried to convince me that his/her religion is the best. I don't like that, we all have the right to decide in what we want to believe. If you insist in those questions you will get a negative rate from me, sorry.
★ I believe in magic. I also read Tarot, hands, runes, tea and coffee dregs, aura, etc.
★ I love Football! I support Barcelona more than anything in the world :D Also Celta and Liverpool.
And I think I should stop writing facts about me, and start the action with the I love and I hate part... That's the most interesting one for the swaps, but I just can't stop talking about random stuff ;D
★ Favorite Season - Autumn. I love whenever the leaves start to fall and it starts to chill. Also like Winter when it snows :)
★ Favorite Colors - Teal, Turquoise, Aquamarine, Blue, Green and everything related to those two colors together :) Also purple, indigo, silver, bronze, black, orange and yellow.
★ Favorite Color Combos -
Teal-Aqua-Turquoise/Purple.
Teal-Aqua-Turquoise/Red.
Teal-Aqua-Turquoise/Yellow.
Teal/Purple/Yellow.
Yellow/Fuchsia or Purple.
Yellow/Dark Blue/Orange.
Aqua-Turquoise/Brown.
Orange/Green.
Indigo/Silver.
A rainbow :)
Combine my favorite colors as you wish, I'd love it too!
★ Favorite Flavours - Vanilla!!!, Mint chocolate & all kind of chocolates, Tiramisú, caramel, peach & strawberry.
★ Favorite Foods to get - Vanilla!, Jelly Beans, Chez Mix, Mint chocolate candies! (Such as Mint M&Ms or Mint Aero, but I'd like to try new ones ;D), Nerds, white chocolate, Marshmallows, Japanese Candy!, lollypops, Vanilla Coke!! (PLEASE! lol) & Coffee Flavours! But ANY CANDY you want to send me it's perfect :) I looooove getting candy!
★ Favorite Chocolate - Mint flavoured, white and dark :D! Dark & orange is amazing too ;D
★ Favorite Drinks - Diet Coke, Vanilla Coke, Cherry Coke, Beer, Fruit Mixes, Milkshakes, Rum & Cocktails.
★ Favorite Coffee - I like flavored one the most, especially Vanilla, Caramel and Chocolate. Vanilla Latte and Caramel Machiatto are my favorite ever. Also Cappuccino & Mocha. Also like strong & very tasty and smelly coffee.
★ Favorite Landscapes - Oceans, Lakes & Rivers, Sunset in Beaches/Mountains/etc., Starry Nights, Northern Lights, Snowed Fields & Mountains, Cemeteries, Abandoned & Spooky Places, etc.
★ Favorite Animals - cats, horses, dogs, dragonflies, butterflies, eagles, turtles, tigers, lions, leopards... ALL ANIMALS! (Except spiders, bees & cockroaches :S!!!)
★ Favorite Videogames - Kingdom Hearts, Golden Sun, Zelda, Final Fantasy, Animal Crossing, Phoenix Wright, WoW, Sacred, The Sims, Mario Bros, Sonic, Starcraft, Heroes of Might & Magic, Civilizations, Settlers, etc.
★ Favorite Flowers - Yellow roses, yellow tulips & yellow daisies.
★ Favorite Numbers - 3, 7, 13 & 22.
★ Favorite Kawaii - Little Twin Stars, Hello Kitty, Strawberry Shortcake & Rainbow Brite :_)
★ Favorite Books - The Time Master (Louise Cooper), Belgariad and Malloreon (David Eddings), Elenium and Tamuli (David Eddings), The Lord of the Rings (J.R.R. Tolkien), Narnia (C.S. Lewis), The Vampire Chronicles (Anne Rice), The Hunger Games saga (Suzanne Collins), Mythago Wood (Robert Holdstock), Graceling (Kristin Cashore), The Dark Matter saga (Philip Pullman), Pride and Prejudice (Jane Austen), Wuthering Heights (Emily Brontë), Much Ado About Nothing (Shakespeare), The Neverending Story (Michael Ende), etc.
★ Favorite Music - I listen from Classical to Death Metal, true story. I'd say that Rock, Metal, Folk & Blues/Jazz are my favorite styles :) My favorite band is Muse and I'm really into Folk Metal right now.
★ Favorite Movies - Much Ado About Nothing, Narnia, The Lord of the Rings, Eternal Sunshine of the Spotless Mind, Pride and Prejudice, Wuthering Heights, The Mists of Avalon, Battle Royale, Legend, The Princess Bride, The Neverending Story, A Knight's Tale, Rocky Horror Picture Show, Labyrinth, The Fall, Finding Neverland, Big Fish, Sleepy Hollow, Edward Scissorhands, etc.
★ Favorite TV Shows - LOST, Glee, Merlin, True Blood, Dexter, The Big Bang Theory, How I Met Your Mother, Friends, The Vampire Diaries, Carnivale, Fringe, etc.
★ Favorite Anime/Manga - RahXephon, Saikano, Bleach, Love Hina, Angelic Layer, Soul Eater, Mononoke Hime, Howl's Moving Castle, etc.
★ Idols - Matthew Bellamy, Alanis Morissette, J. W. Waterhouse, Gustav Klimt, J. E. Millais, JRR Tolkien, C. S. Lewis & Shakespeare.
★ Favorite paintures - The Kiss (Gustav Klimt), Miranda and the Tempest, Lady of the Shalott, Boreas & Ophelia (J. W. Waterhouse) & Ophelia (J. E. Millais).